Almost Family is a 2019 drama series, directed by Leslye Headland.
When it is revealed that fertility doctor Leon Bechley (Timothy Hutton) had used his own sperm to conceive at least 100 children throughout his career, Julia Bechley (Brittany Snow) unites with two of her half siblings—including former friend Edie Palmer (Megalyn Echikunwoke), and retired Olympic athlete Roxy Doyle (Emily Osment)—as they deal with issues that have been affecting their lives.
We are currently editing 49 articles and the community is making 688 edits. We are the go-to place for all things Almost Family!
Notorious AF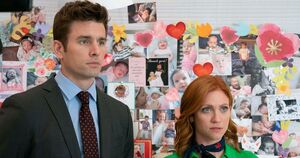 New Almost Family premieres Wednesday, October 16 with "Notorious AF"!
In this episode, Julia's dirty laundry is aired for the world to see when a video goes viral and she is forced to team up with Isaac to combat the situation. As Roxy forms a bond with 11-year old Izzy and Edie meets with Dr. Bechley regarding his case.
Are you excited for the episode? Read more! →
Almost Family Wiki Wiki
Almost Family Wiki is an encyclopedia on the hot FOX show Almost Family, made by fans, for fans!. Whether you are interested in the main trio of characters, or the episodes they appear in, we are the place to go for all-things Almost Family.
Want to help out? Sign up for a free account and start editing today!
Community content is available under
CC-BY-SA
unless otherwise noted.